LitWorld's Young Professionals Network is a community of young leaders that aims to expand and amplify LitWorld's impact through fundraising, advocacy, and community-building initiatives. The group represents a broad array of professional expertise and personal passions, but is unified by a commitment to LitWorld's mission. The Young Professionals Network is led by the YPN Board, a governing body of committed leaders responsible for setting and actualizing the network's goals season-over-season.
And now, it's recruitment time for the YPN! That means for the next few weeks, we'll be highlighting current members and alumni of the YPN on Facebook, Twitter, and Instagram.
If you or someone you know may be interested in joining the YPN as a leadership member—or offering time and energy in some other way to support global literacy—we hope you reach out for more information here!
Applications are currently being accepted here. Meet the network below!
Hi there! I'm Maya Battle, a longtime member and former co-chair of LitWorld's YPN. I've always been a passionate reader, but I've also been fortunate enough to work at Penguin Random House for nearly ten years now, marketing, discussing, and dreaming up big things for a lot of books I truly love. Reading made a huge difference in my life, providing me an escape when I needed one, inspiration when the world seemed grey, and voices that articulated all of the things I wanted to say but couldn't find the right words for. It means a lot to me that LitWorld's advocacy is out there making new connections with children around the globe. Such an organization would have made a world of difference to me, so I hope that, especially if you're like me and you can see yourself in the bright eyes of a child discovering something for the first time, you'll also fall in love with LitWorld.
I'm Courtney Code, a proud member of LitWorld's YPN board, serving this year as co-chair. My childhood was blissfully full of formative stories. A beloved friend gave me Eloise for my sixth birthday, and I swore I'd live in New York City someday (in the Plaza hotel, of course). My mom read Harry Potter and the Sorcerer's Stone to me and my brother, chapter-by-chapter on the living room floor. I waited every day that year for my Hogwarts letter. One Christmas, my aunt and uncle wrapped Harold and the Purple Crayon up for me, and I dreamt of creating a world of my own, from nothing but a blank page.
All of these imaginings came true for me in their own ways, thanks to the power of story. I am grateful for the abundant access to literacy and education I've been granted, and I am committed to opening that door for all children, for all communities across the globe.
Hello! I'm Rosemary Derocher, and this was my first year with LitWorld and my 24th year with books. On LitWorld's YPN board, I support finance and fundraising, and I work in nonprofit fundraising professionally. As a kid, I did a lot of reading past my bedtime - and a lot of hiding thick books under my stomach to totally, successfully, 100% convince my parents that I was very asleep. This did not work with Harry Potter and the Goblet of Fire or Eragon, but I'm pretty sure it was successful with a nice paperback copy of E.L. Konigsburg's The Outcasts of 19 Schuyler Place.
Supporting LitWorld is important to me because it gives me a chance to use my skills and talents to support something I really care about - the power of stories. Growing up with stories gives you a better way to look at the world with greater empathy and kindness. Also, getting lost in a story is a great way to give your brain a rest and recharge, and that's something everyone needs. (That and Thneeds!)
I think right now my favorite of LitWorld's Seven Strengths of Super Readers is "curiosity" - the desire and instinct to probe into things, ask questions, and learn more. This is something I've been trying to grow in my own life lately as well. Calvin of Calvin and Hobbes (another of my favorite, well-worn books on my shelf) provides a lot of life lessons through "do's" and maybe a few more through his "don'ts" - but curiosity is definitely something he's been teaching me for many years.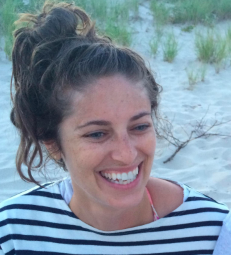 Hi! I'm Jessie Paddock and this is my second year with LitWorld. I'm proud to be part of YPN as the art of storytelling has been part of my life since I was a child, taking on many different shapes and sizes over the years. Now a writer of middle-grade and young adult fiction and a teaching artist, I've also worked with visual artists and as a performer in theatre and film for years. My enduring interest in narrative all began with books, though.
When I was six I wanted to be Eloise when I grew up. The next year, I had my sights set on Calvin or Hobbes (slight bias towards Calvin, but I wasn't going to be picky), an aspiration that seemed absolutely attainable, somehow. Though I eventually realized that I'd never actually be a precocious six year old with a pet turtle living in a grand hotel (by that point I was about eight), or a rambunctious kid with a stuffed tiger as my BFF, the spirit of these characters and their stories stayed with me. My first favorite books – Eloise and Calvin & Hobbes: It's a Magical World -- encouraged me to dream, laugh, and imagine. Simply put, literature inspired me to create.
Books, and the privilege of literacy, jump-started my imagination and eventually empowered me to generate characters and stories of my own. I'm proud to be part of LitWorld because I believe literacy has the power to encourage self-expression, communication, and play. I like to think Calvin, Hobbes and Eloise would agree.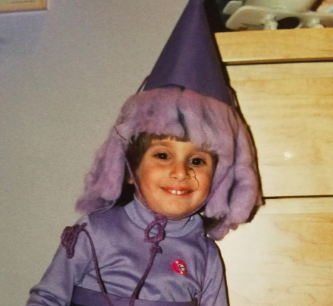 I'm Ilana Solomon, the YPN's Fundraising Chair this year, and I also work as Development Associate for LitWorld! When I was younger, nothing made me happier than reading. Before I could read on my own, my parents would read aloud to me every night before I went to sleep (my Dad does a great dramatic reading of Shel Silverstein poetry), and when I was old enough to read on my own, I would stay up way past my bedtime reading until I fell asleep. I even went as the purple crayon from Harold and the Purple Crayon for Halloween one year! Reading and the power of literacy has shaped my life in so many crucial ways — I would not be the person (or bookworm) that I am today without it. LitWorld is making sure that kids across the globe can experience the joy and power that literacy brings.
I'm Olivia Chase, the YPN's Culture point-woman this year, and I have been working with LitWorld in various volunteer capacities since 2010. I'm an English teacher, so I get asked the favorite-book question a lot, but for me books are a kind of religion and favorites are always in flux -- there should be a word for book-kismet, when books find you at the right time. Right now, I'm reading Krik Krak by Edwidge Danticat, and I'm teaching The Giver and American Born Chinese to sixth and eighth graders. When I think about what literacy means to me more broadly, I think LitWorld's founder, Pam Allyn, put it best:
"Literacy has inevitably changed your life for the better. Literacy wakes us to awareness of the world, of the beauty in it, and the sorrows of it too. Literacy is something we want others to fall in love with, the way we've gotten to. From the oral tradition to the written forms, literacy connects us to others, makes us stronger, braver, better, more knowing, more questioning.
It is never something that if you have it, someone else will have less of it. It's something every single person on earth can have while not depleting something else. If more people have it, more people will be better off for it.
It is the essence of how democracy is built and how we converse and relate, connect and fulfill dreams. It is the essence of peace."
Hi there, fellow human. I'm Eric, the LitWorld Young Professional Secretary for this year. From when I was very young, my mom impressed the importance of reading on me and I still think of how it's shaped me into who I am today. In the beginning she would read to me, but as I got older I found it was I who really enjoyed reading back to her - it left me with a deep sense of satisfaction and accomplishment. Now that I'm older, I understand that there is one thing that unlocks all opportunity in the world: literacy. It's important to me that everyone has the same opportunity for success that I had. LitWorld's global programs encourage self-expression, build understanding, and cultivate confidence in the leaders of tomorrow.
Hey there, people who care about the world. I'm Angela Januzzi, the new Outreach & Community Coordinator for LitWorld's Young Professionals Network. I've been lucky to work for both book publishing and non-profits, but before that there wasn't much in life that could both calm me down and wake me, up all at once, like the acts reading and writing.
While many people's lives are enriched through the escapism reading offers, for me reading and writing were how I first processed my own immense desire to simply know more about the world, when I felt I couldn't find those answers from my immediate surroundings. And then the more I read, the more I wrote. And the less afraid I was to then transfer those observations from sheer words into acts of real, true experience.
LitWorld directly supports programming and communities for kids who, otherwise, might not have had such life-changing interactions through reading and writing. Yes. But what makes LitWorld *especially* vital is just how grassroots its work is. Its entire model is built upon partnerships with local literacy organizations around the planet, and with very little bureaucracy. I personally believe LitWorld's work with literacy groups, throughout the U.S. and the globe, isn't just essential to greater equality for all of us — it's also maybe one of the best models for worldwide literacy that you could ever want to support. Hope you join us soon. <3
Hi! My name is Remy Olsen and this is my second year being a part of the amazing LitWorld's YPG. Having a mother in publishing, books were a large part of my childhood. One book took the cake though, as I probably read Corduroy a million times. His adventures and undeniable cutest made me his #1 fan. His likability has survived the battle against time as Corduroy is my niece's favorite stuffed animal.
Hi! I'm Sam Siegal, a proud co-chair of the LitWorld YPN board. Some of my favorite books to read when I was little were from the Nancy Drew series…what could be better than a butt-kicking girl detective?? I'm honored to be part of the LitWorld family because reading and writing gave me a voice as a strange, mystery-loving little girl and every child must have the right to express their own strange in their own way. LitWorld is changing the world through super smart programming that does just this – please help us spread the lit love!
I'm Caelyn Cobb, the incoming YPN leadership team co-chair for the 2018-2019 year. By day, I'm an editor for nonfiction books on global history and international politics at Columbia University Press. I started working with LitWorld in 2016 during my capstone project for grad school at NYU, traveling to Haiti to help train LitClub mentors. Seeing the important work LitWorld does to help create a love of learning in kids of all ages firsthand was inspiring. I joined the YPN after finishing the project and I've been proud to support LitWorld ever since.

I've come a long way since Mickey Mouse's Books of Opposites, but I still get excited about getting my hands on a new book. As a kid I loved Ella Enchanted, Nancy Drew, and my illustrated encyclopedia; today I love Gillian Flynn's mysteries and any new books about politics. Your tastes (and reading level) may grow up, but LitWorld has shown me that the joyful reader inside never truly does.